Meet K2v2 Hot-Swappable Version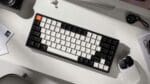 What's new on the K2 (Hot-swappable) compare with the K2?
The Best Combination Of Compact And Tenkeyless Keyboard, Yet Hot-Swappable
K2 (Hot-swappable) version is a tactile wireless mechanical keyboard with Mac and Windows compatibility, and convenient access to all the essential function keys, with the largest battery seen in a mechanical keyboard.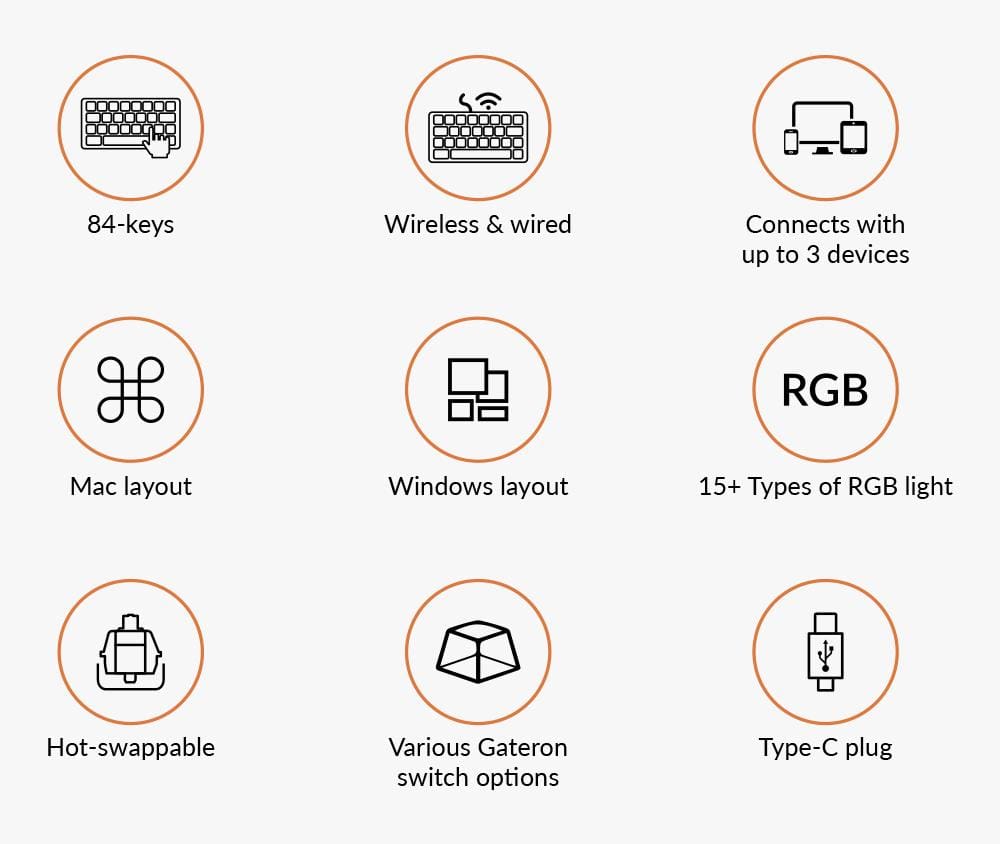 Connects with up to 3 devices via Bluetooth and switch among them easily. With high reliable and broad compatibility Broadcom Bluetooth 5.1 chipset, the K2 hot-swappable is best to fit home, office and light gaming use while connecting with your smartphone, laptop and iPad. It also has wired mode with USB Type-C connection.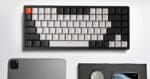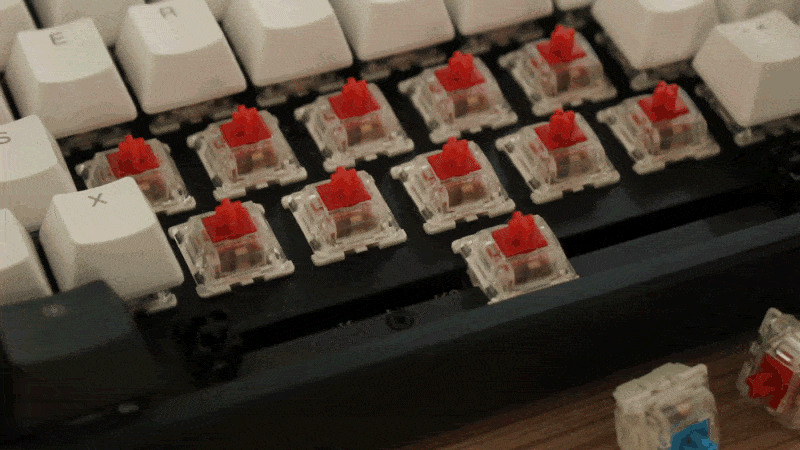 Hot-swappable means to customize your typing experience without soldering, just pop them in and it's done..
*The socket of K2 (Hot-swappable) keyboard is compatible with almost all the MX style 3pin and 5pin mechanical switches on the market (including Gateron, Cherry, Kailh, etc.). SMD-LED compatible switches are the best for showing the backlights.
Dedicated Typing Experience
Comes with pre-installed Gateron mechanical switch, the K2 is designed to fit your dedicated typing experience. No matter what you like, linear (Red), clicky (Blue) or a little in between (Brown), we've got you covered. With a lifespan of 50 million keystroke, we want to make sure that you experience the same feedback for every keystroke.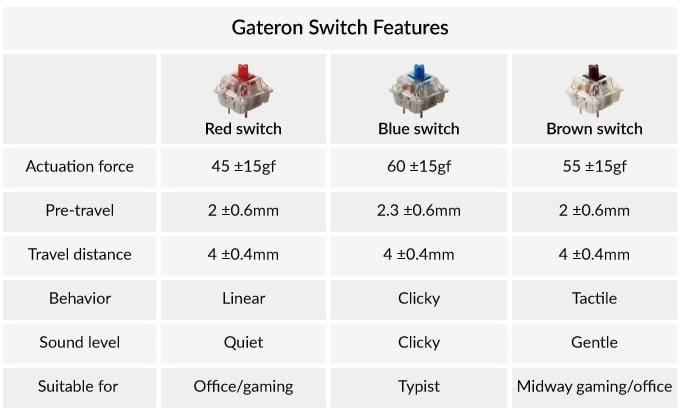 Compatible with all operating systems from Mac to Android to Windows. K2 is one of the few mechanical keyboard featuring Mac layout media keys. It allows you to use all the same media keys as conventional macOS. Every K2 keyboard comes with 3 specific keycaps for Mac and Windows, respectively.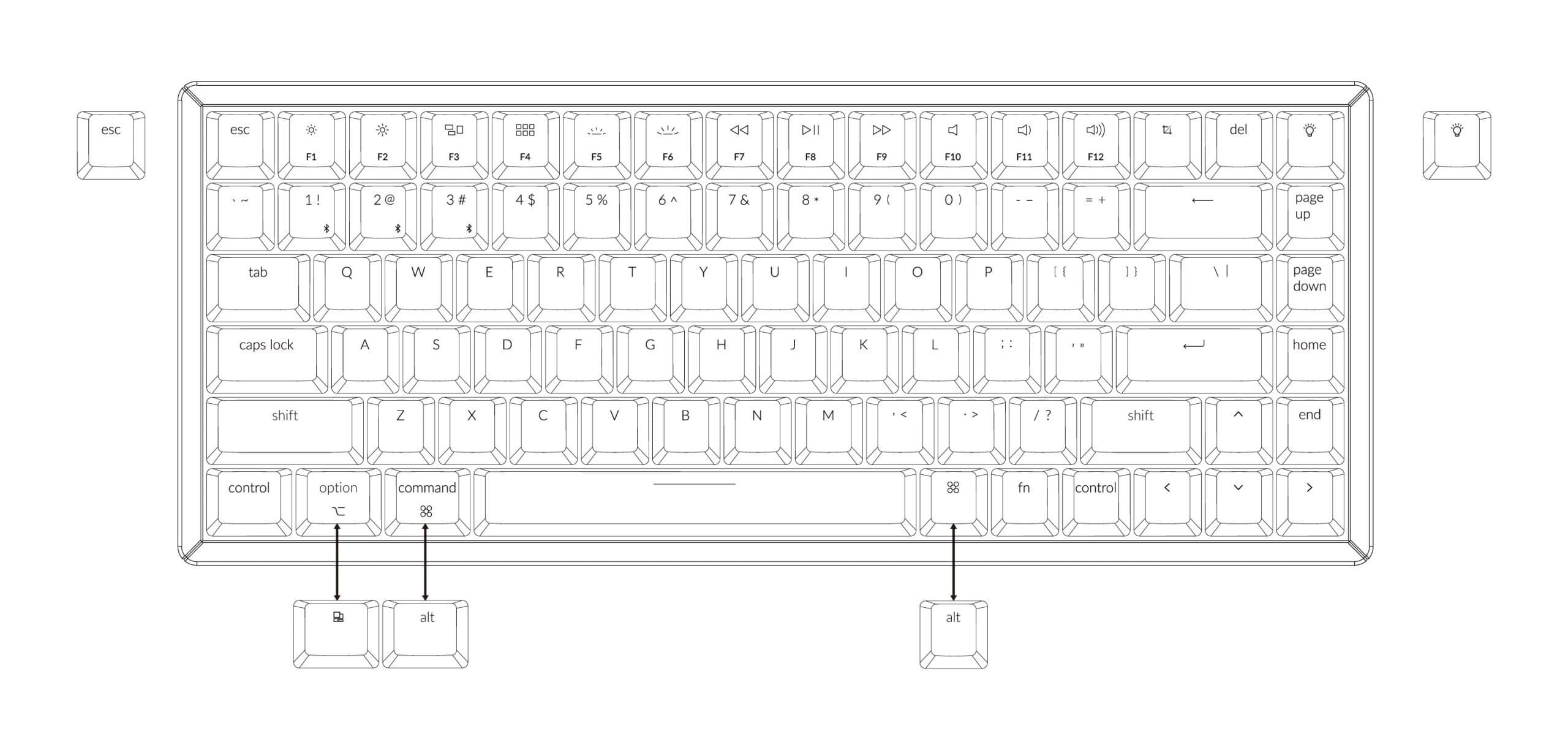 Engineered with double-shot keycap set allows backlight shines through the legends with a subtle feeling.
Please note that the legends on the black and white color keycaps may look slightly different, as the legends on the black keycaps may look less clear on the black keycaps compared to the white keycaps,
Inclined bottom frame makes the K2 more comfortable to crank out emails or write a novel.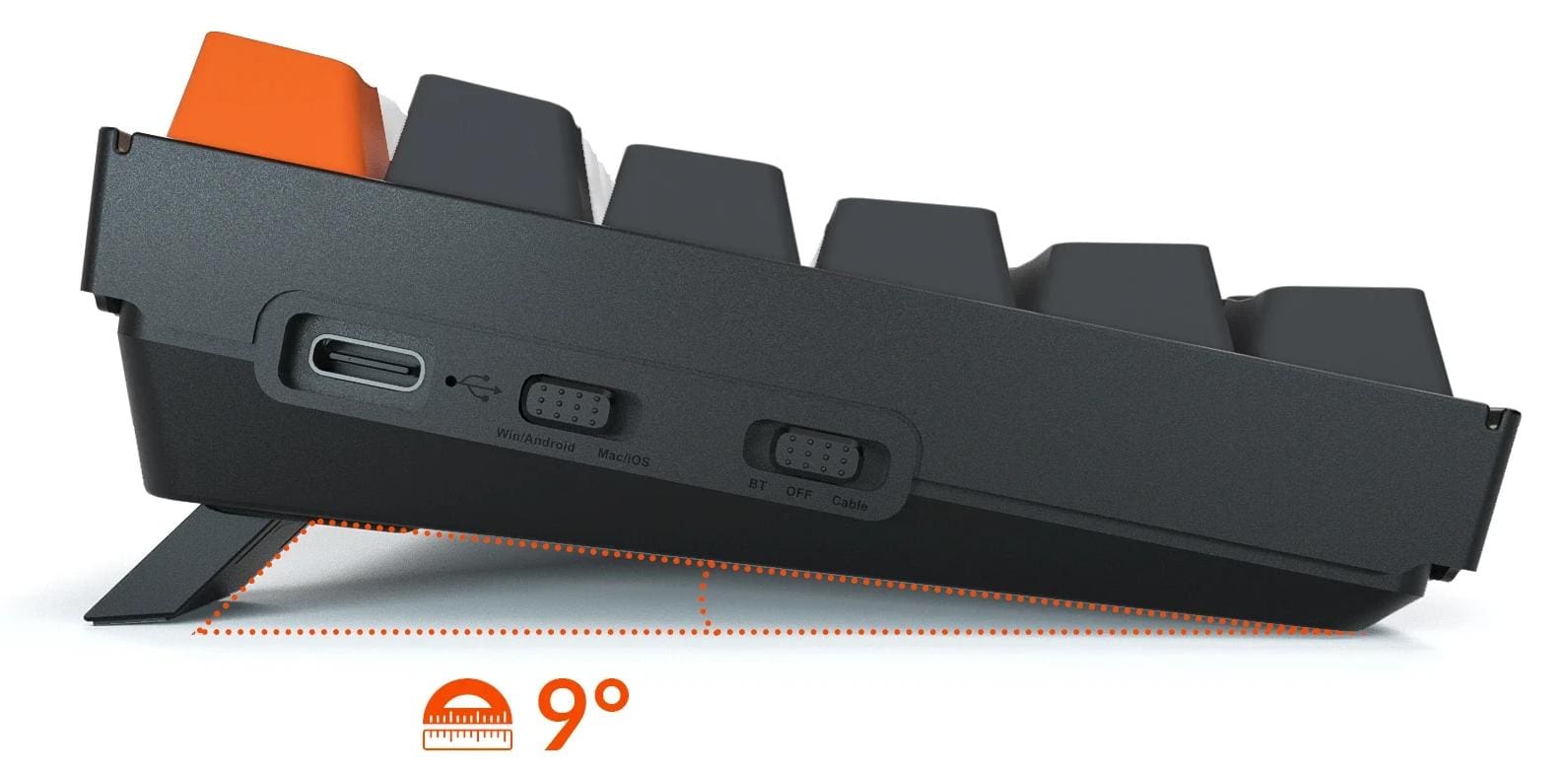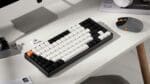 K2's 84 key design by retaining all the essential function keys like Page Up/Down, Home, End, and Screen capture (cmd+shift+4) which are important for your productivity. With N-key rollover (NKRO on wired mode only) you can register as many keys as you can press at once without missing out characters.
The K2 can last up to 240 hours typing (backlight off) with a 4000 mAh big battery.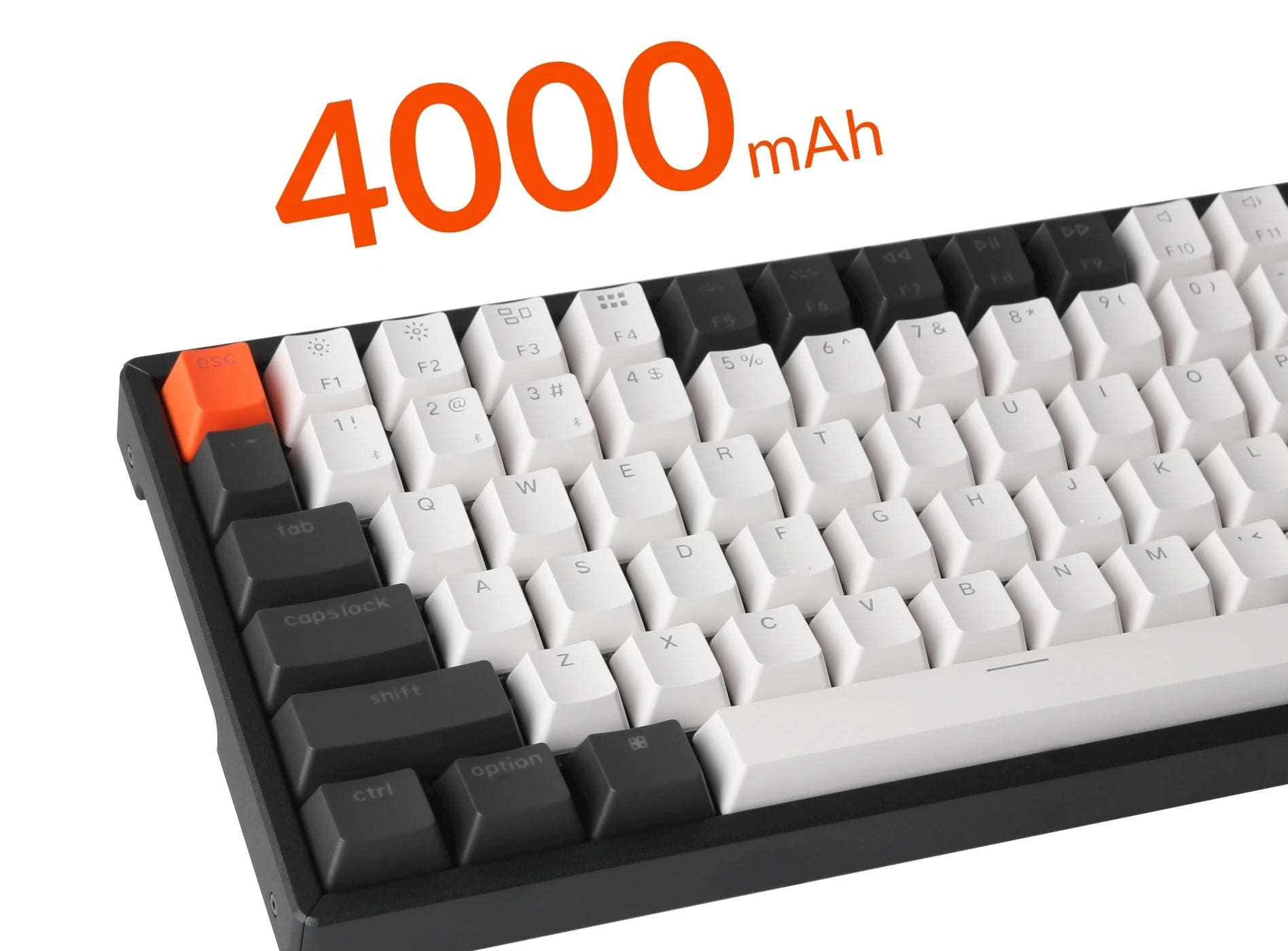 Engineered with more than 15 types of RGB light and comes with different styles (flashing, breathing, or static etc) which will match up to your mood. Simply press the lightbulb key or fn + right arrow to achieve it.
Covered by 9TO5Mac and other major media
SPECIFICATION

 
Number of Keys: 84 keys
Switches: Gateron G Pro blue/red/brown switches 
Number of Multimedia Keys: 12 
Main Body Material (Plastic version): ABS
Main Body Material (Aluminum version): Aluminum frame and ABS bottom frame
Keycap Material: Double-shot ABS
Keycap Profile: OEM
Layout: ANSI
Polling Rate (Wired Mode): 1000Hz
Polling Rate (Wireless Mode): 90Hz
CONNECTIVITY AND POWER


Backlit Types: 18
Backlit: Adjustable 4-level RGB backlit
System: Windows/Android/Mac/iOS
Battery: 4000mAh Rechargeable li-polymer battery
BT Working Time (Backlit off): Up to 240 hours (Lab test result may vary by actual use)
BT Working Time (Single LED): Up to 68 hours (Lab test result may vary by actual use)
BT Working Time (RGB): Up to 72 hours (Lab test result may vary by actual use)
Charging Time: Around 3 hours
Connection: Bluetooth and Type-C cable
Bluetooth version: 5.1
Bluetooth Device Name: Keychron K2
Compatible System: macOS/Windows
PHYSICAL UNIT


Dimension (Plastic frame version): 313 x 123mm
Weight: About 663g / 23.4oz
Dimension (Aluminum frame version): 317 x 129mm
Weight: About 794g / 28oz
 Height incl. keycap (front) 30mm
Height incl. keycap (rear) 40mm
Operating Environment: -10 to 50℃

PACKAGE CONTENT

1 x Keyboard
1 x USB-A to USB Type-C Cable
1 x Keycap Puller
1 x User Manual