Keychron K8 Pro QMK/VIA Wireless Mechanical Keyboard
₹9,199.00 – ₹10,499.00 ( Inc. GST )
Warranty
Warranty
Keychron products are covered by a warranty.
Note: The warranty is provided in addition to the rights and remedies granted to you by the seller or granted to you under applicable legislation. Therefore, any remedy (e.g. rectification, claim for damages, right to terminate the contract) granted by Keychron or by the law applicable remains unaffected, e.g., the right to claim lack of conformity within 12 months from the date of purchase.
The warranty covers all defects compared to the specification of the product in question that may arise in the product within the below-mentioned warranty period, however, with the exceptions set out below.
Unless otherwise explicitly stated in documents provided in connection with the purchase, the warranty period is twelve (12) months. For all Pre-Orders, the warranty period is twelve (12) months, but the warranty will start after the product is received by the customer.
The warranty period starts when the product(s) is delivered to the first end-user. This warranty does not extend to any product whose serial number has been defaced or altered, just as the warranty will cease if you make modifications in the software not authorized by Keychron.
Note: If it appears as "Delivered" on the courier's website (i.e., Delivery) for more than 3 months, the delivery details on the courier's website will be deleted. The courier will not provide any compensation to us for these orders; that's why we can't provide any refund if the client does not inform us to investigate the parcel via email 3 months after it has been "Delivered" on the courier's website.
The following are NOT covered by the warranty:
– Accessories and spare parts (including but not limited to cables, carrying case etc.) sold separately i.e. not bundled with a Keychron product.
– Defects that have been caused by wrongful use, incorrect installation, incorrect repairs/modifications, or maladjustment of the product, or neglect, including but not limited to "burn in".
– If the product wasn't purchased from the official website (Keychron.in).
– Defects that have been caused by lightning, fire, water, or other events of force majeure.
– Batteries will be covered by three (3) months warranty.
With the herein stated exceptions to claim under the warranty, you may contact support@keychron.in if a defect covered by the warranty arises in your product within the warranty period. Keychron will rectify the defect by, at our choice, either repairing the defective product or replacing it with a product of same or similar type and condition.
Keychron products marked as being a special or a limited edition cannot be guaranteed in case of replacement to be replaced with an identical product.
The warranty does not cover the costs of consequential damage or indirect loss or any related expense of claiming under the warranty, such as loss from inability to operate the product. Products which are developed especially for use in the country in which they are sold, e.g. due to varying transmission systems and approval demands, are not covered by this warranty if defects or malfunctions are caused by the usage of the product in another country.
In order for the warranty to apply, and to claim under the warranty, you MUST include the original invoice(or any proof of purchase) of Keychron where you wish to make your warranty claim, image or video shows the product problem comply with our warranty policy.
If client found that product or color is not what you ordered, please help to provide a photo to include the product and tracking number written/print on paper, then, shoot an email at support@keychron.in to reach our customer service department within 7 days after order delivered.
Note: If it appears as "Delivered" on courier's website (i.e., Delivery) for more than 3 months, the delivery details on the courier's website will be deleted. The courier will not provide any compensation to us for these orders; that's why we can't provide any refund if the client does not inform us to investigate the parcel via email 3 months after it has been "Delivered" on the courier's website.
To claim warranty, you can write us an email at support@keychron.in or raise a ticket from the help & support section and we will suggest you solutions. If we feel that the issue needs to be checked by the tech team, we will inform you to return and we will pick your keyboard From your address.
If the tech team confirms the product is not able to fix or can't be repaired. Then the customer will receive the replacement for the same product. And both sides (Forward + Backward) courier charges are applied which need to pay by the customer.
Additional information
KEYBOARD TYPE

Barebone (Hot-Swappable)

Fully Assembled (Hot-Swappable)

VERSION

RGB Backlight

RGB Backlight Aluminium

RGB Backlight Aluminum

White Backlight

Switches

BAREBONE

Gateron G Pro Mechanical Blue

Gateron G Pro Mechanical Brown

Gateron G Pro Mechanical Red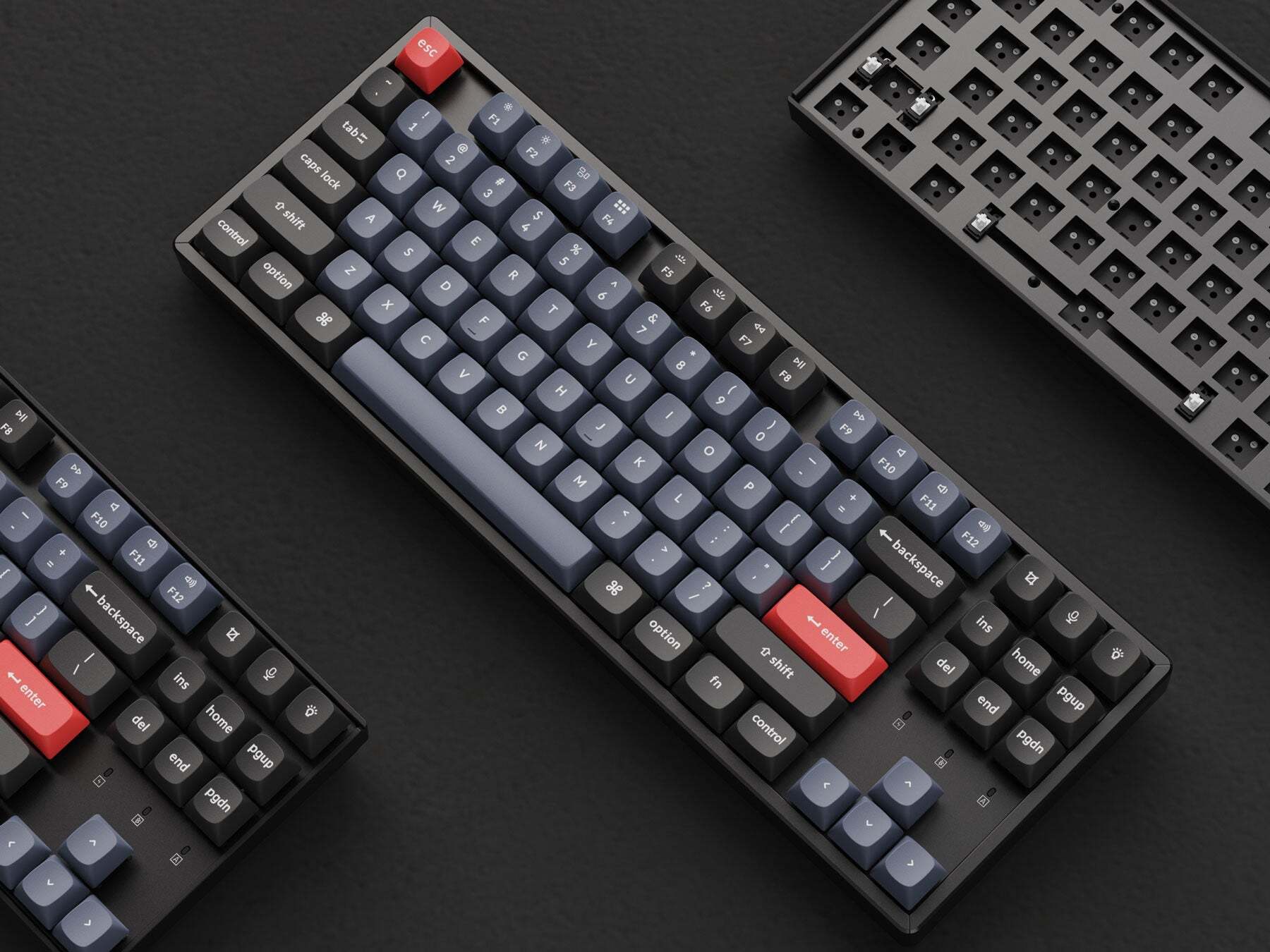 The K8 Pro is the world's first out-of-the-box QMK/VIA wireless mechanical keyboard paving the way for a new era for mechanical keyboards.
Anyone can master any keyboard keys or macro commands through VIA on a wireless keyboard. Together with our signature features and upgraded typing sound, the K8 Pro is advancing the typing experience to an entirely new level with endless possibilities.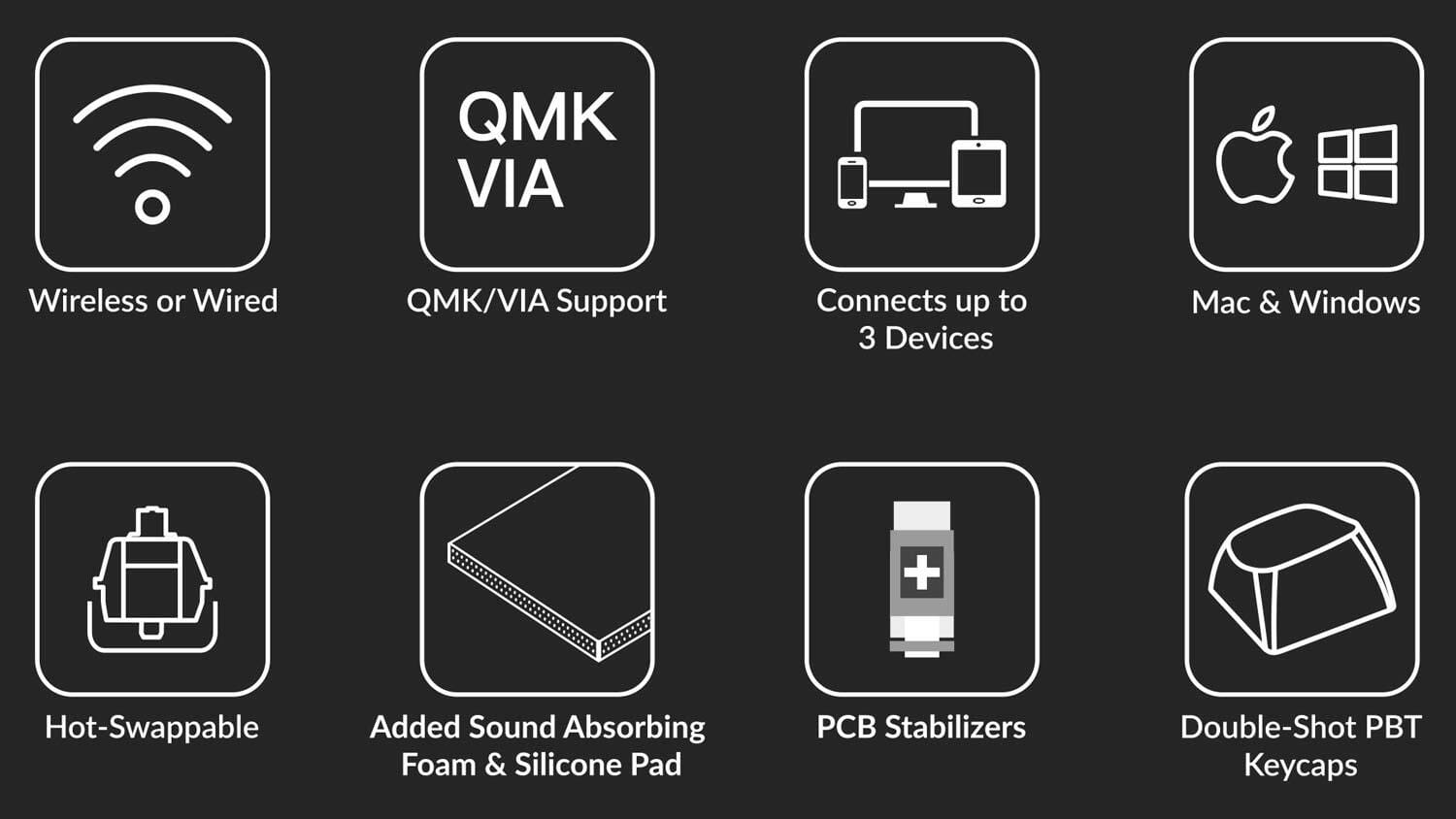 An excellent solution for multitasking. You can connect the K8 Pro with up to 3 devices wirelessly via its stable Broadcom Bluetooth 5.1 for seamless multitasking across your laptop, phone, and tablet. Switch among them swiftly, and it's fully compatible with both Mac and Windows.

A reliable USB Type-C wired connection is also available when you need it.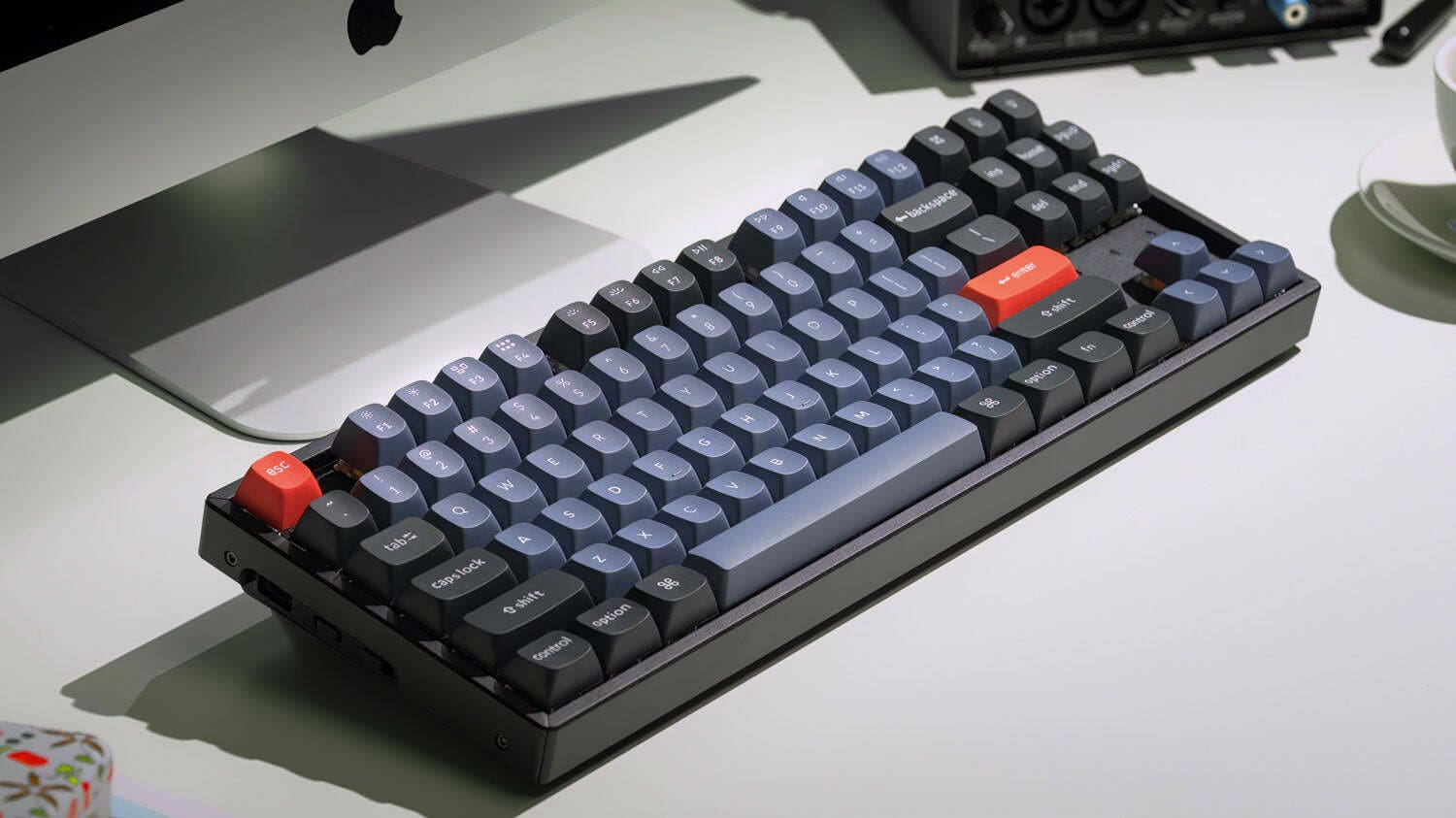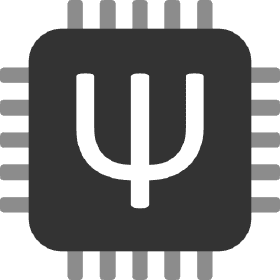 QMK/VIA literally means endless possibilities for a fluid workflow. Thanks to our engineering team, it's the first time in history that a wireless mechanical keyboard has these kinds of capabilities right out of the box.

Simply connect the K8 Pro to your device with a cable, drag and drop your favorite keys or macro commands to remap any key you want on any system (macOS, Windows, or Linux). 
Check the video above demonstrating how to remap a Light Effect key on the top right corner of the K8 Pro keyboard to Eject key with VIA software, so you can get a shortcut to put your Mac to sleep (Command-Option-Eject), or even remap the fn key in a breeze. It's never been so intuitive and flexible to personalize your own keymap.

The video below demonstrates how to create a macro command of a screenshot (Shift-Command-4) on macOS, so you can take a screenshot with a single key.
A brand new ultra-low-power Arm Cortex-M4 32-bit STM32L432 MCU which is powerful, and armed with 128K Flash will provide more flexibility for developers.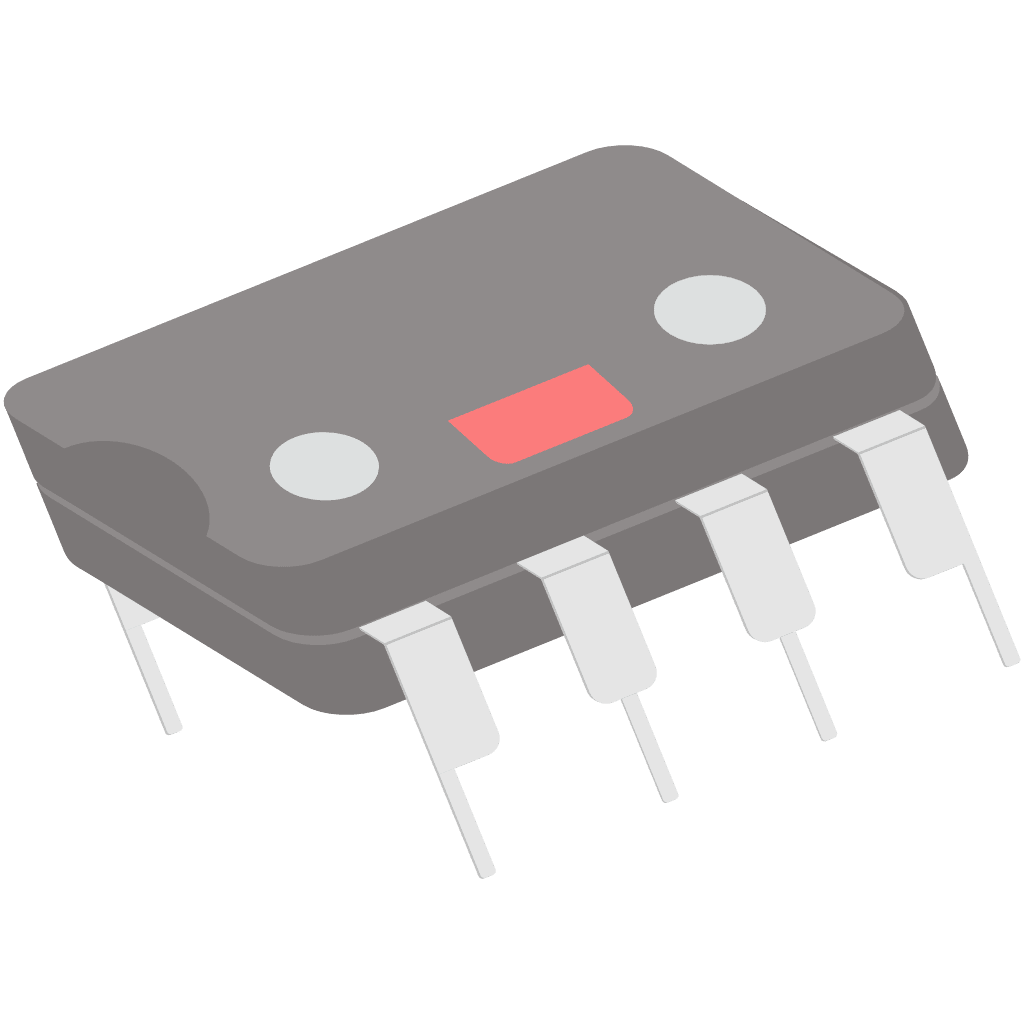 Get the keymap working on VIA
Since the VIA code for the K8 Pro is still awaiting approval from Github, it is not automatically recognized yet. Please download the keymap JSON file below. Connect your keyboard and device with the provided cable, and toggle the switch to cable mode. Open VIA, click on the "Show Design tab" on the "Settings" tab. Drag the JSON file into the "Design" tab on VIA to get the K8 Pro keymap working on VIA.
Upgraded Typing Experience
The K8 Pro has been re-engineered and redesigned from the inside out to upgrade the typing experience. The added sound-absorbing foam, a thick silicone dampening bottom pad, and steel plate provide responsive feedback and a peaceful typing sound, while added weight will enhance the stability when the K8 Pro lay on the desk.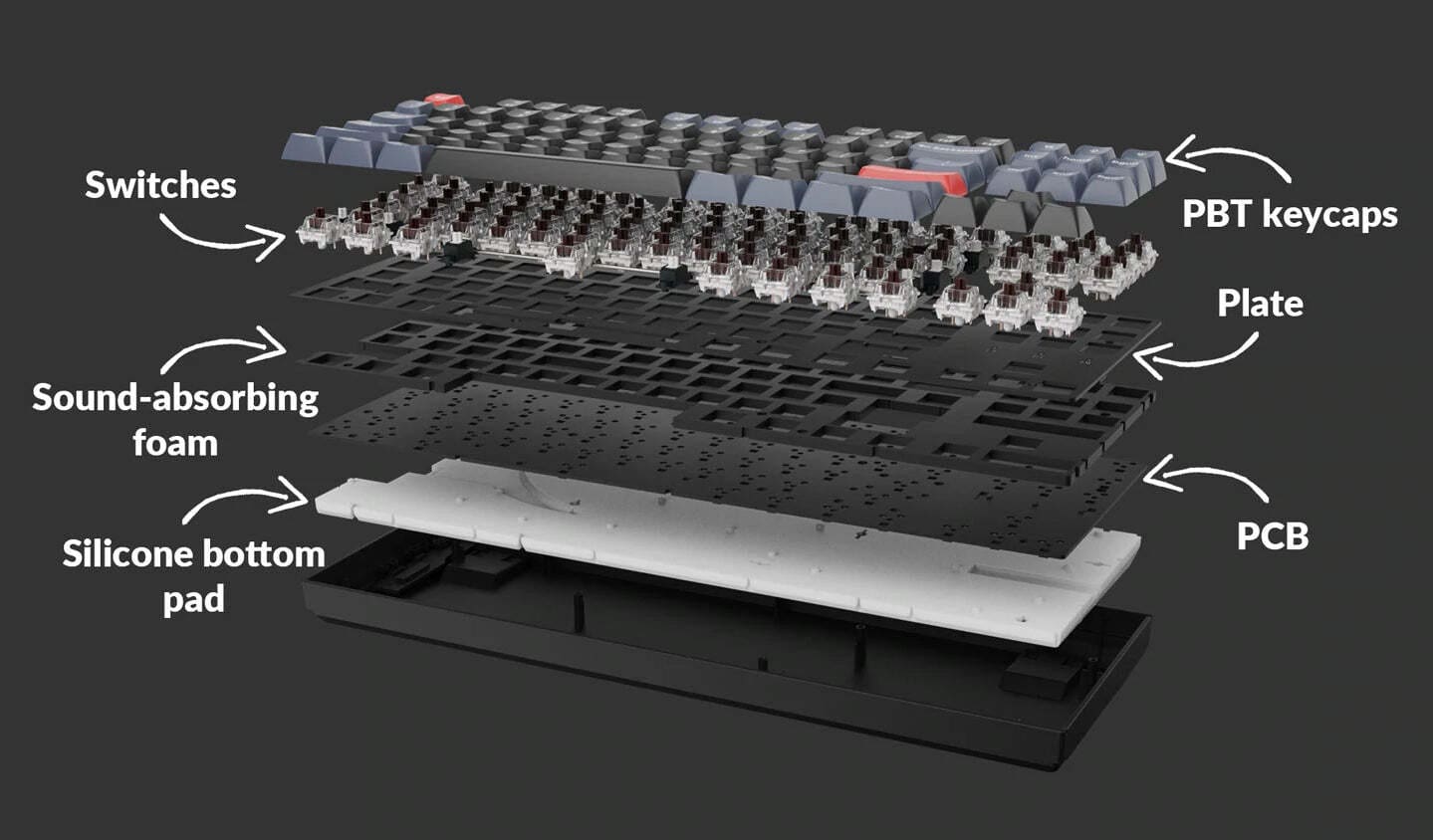 Offers a Mac layout while still being compatible with Windows, the K8 Pro is one of the few on the market that has the same multimedia and function key functions as Apple keyboards for Mac users, but with more tactile feedback.

You can even configure different keymaps for both Mac and Windows devices. While VIA software is compatible with macOS, Windows, and Linux. Includes keycaps for both macOS and Windows (4 keycaps for each) to allow you to switch between operating systems with ease.
Check the high-res keycap layout and size here.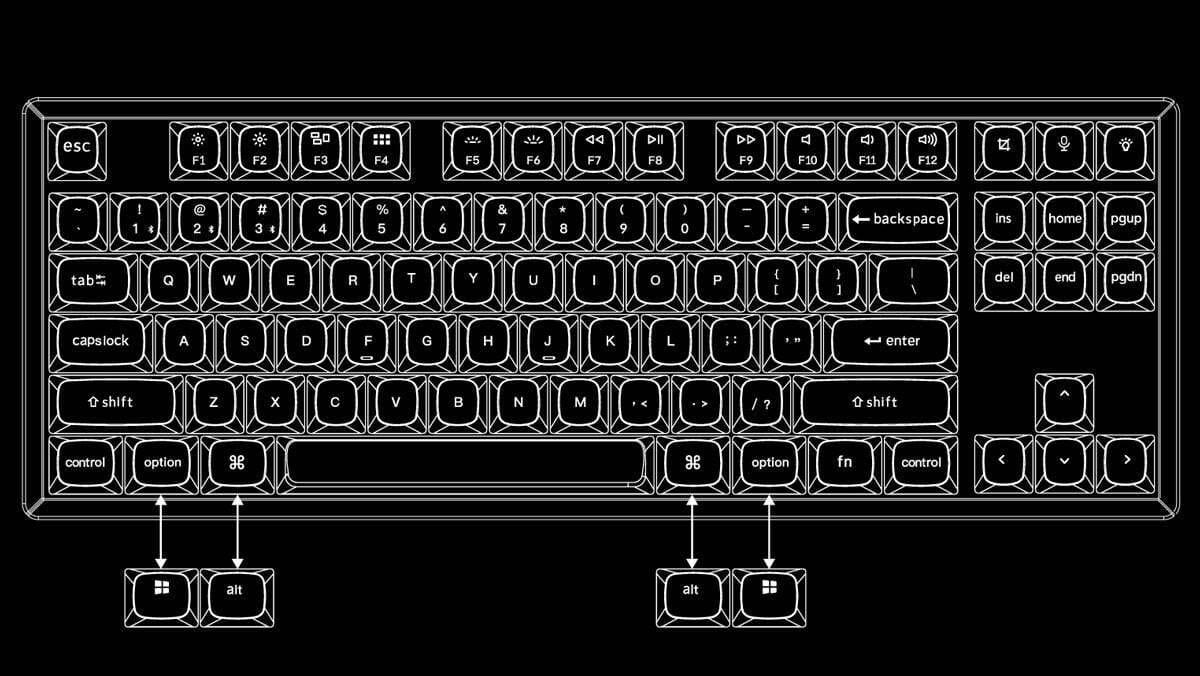 Every detail matters for a personalized typing experience, that's why we give you the power. You can hot-swap every switch on the K8 Pro with almost all of the 3pin and 5pin MX style mechanical switches on the market (including Cherry, Gateron, Kailh, Panda, etc.) without soldering required. You can customize your own typing experience in seconds.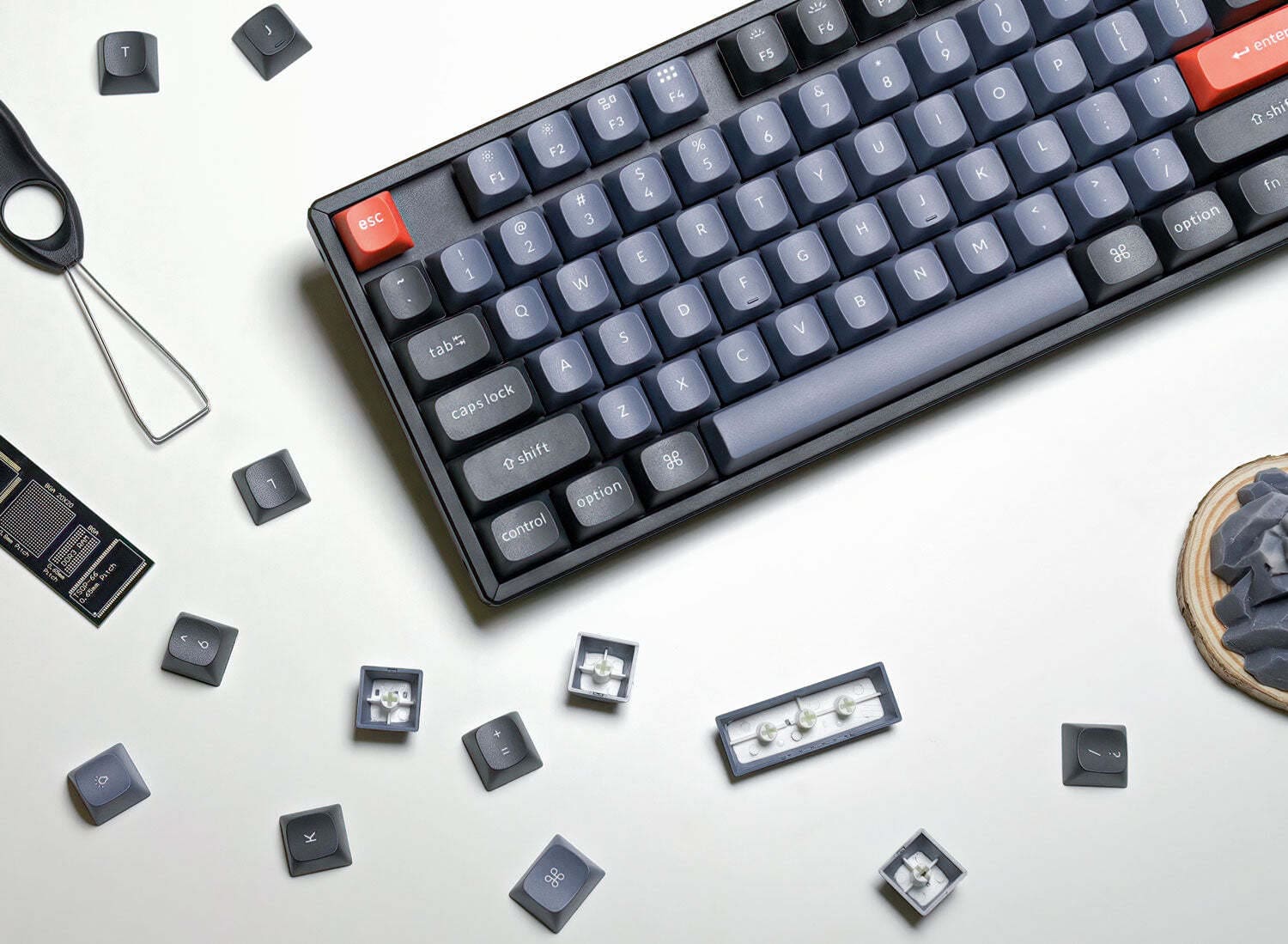 The Barebone version (without switch and keycap) is also available at your choice.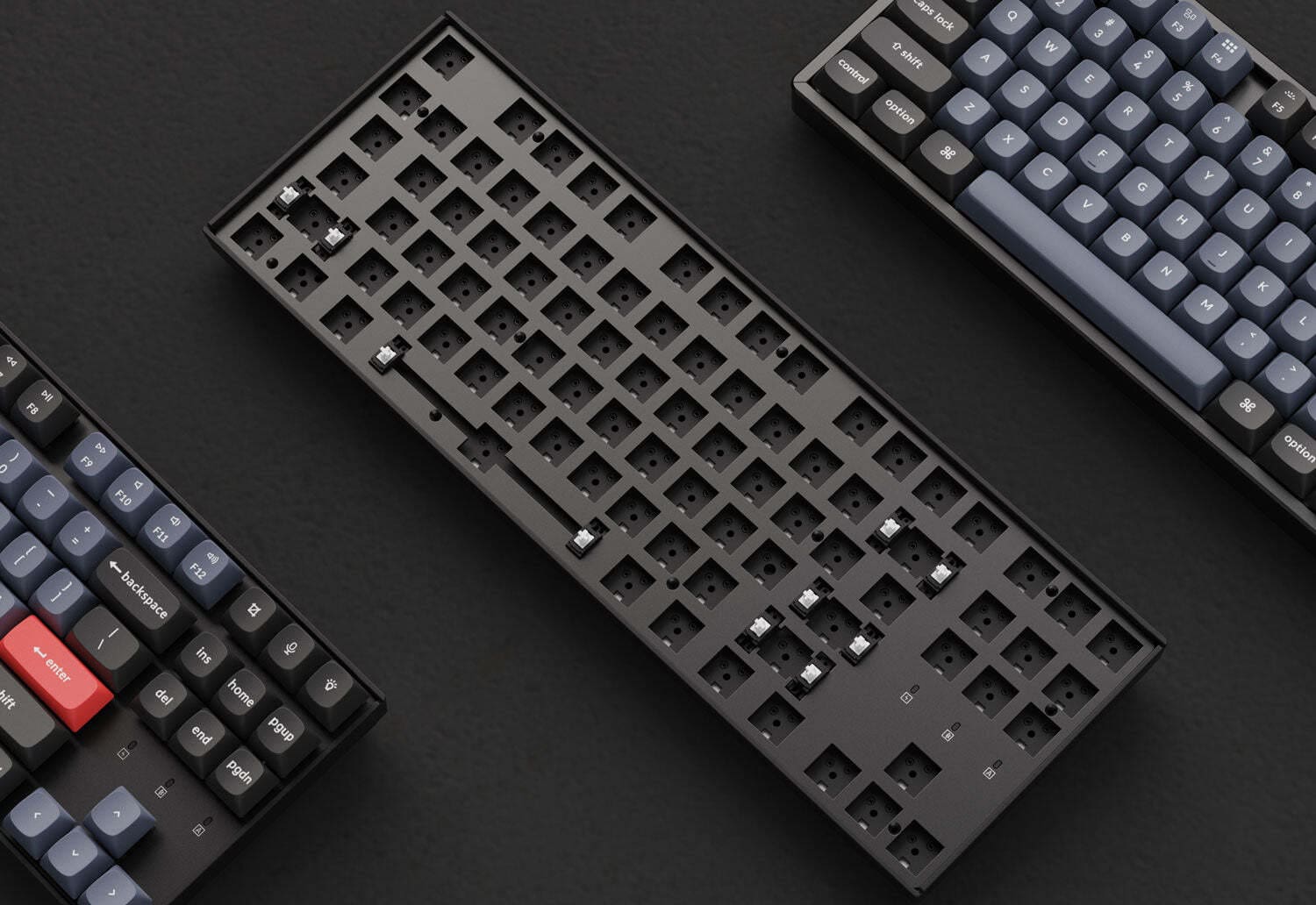 Even small part matters for your fingertip feel. We've integrated the PCB-mounted screw-in stabilizers for a smoother typing experience with less wobbliness on the big keys such as space bar, shift, enter, and delete. You can even customize it with alternative stabilizers such as Cherry or Durock.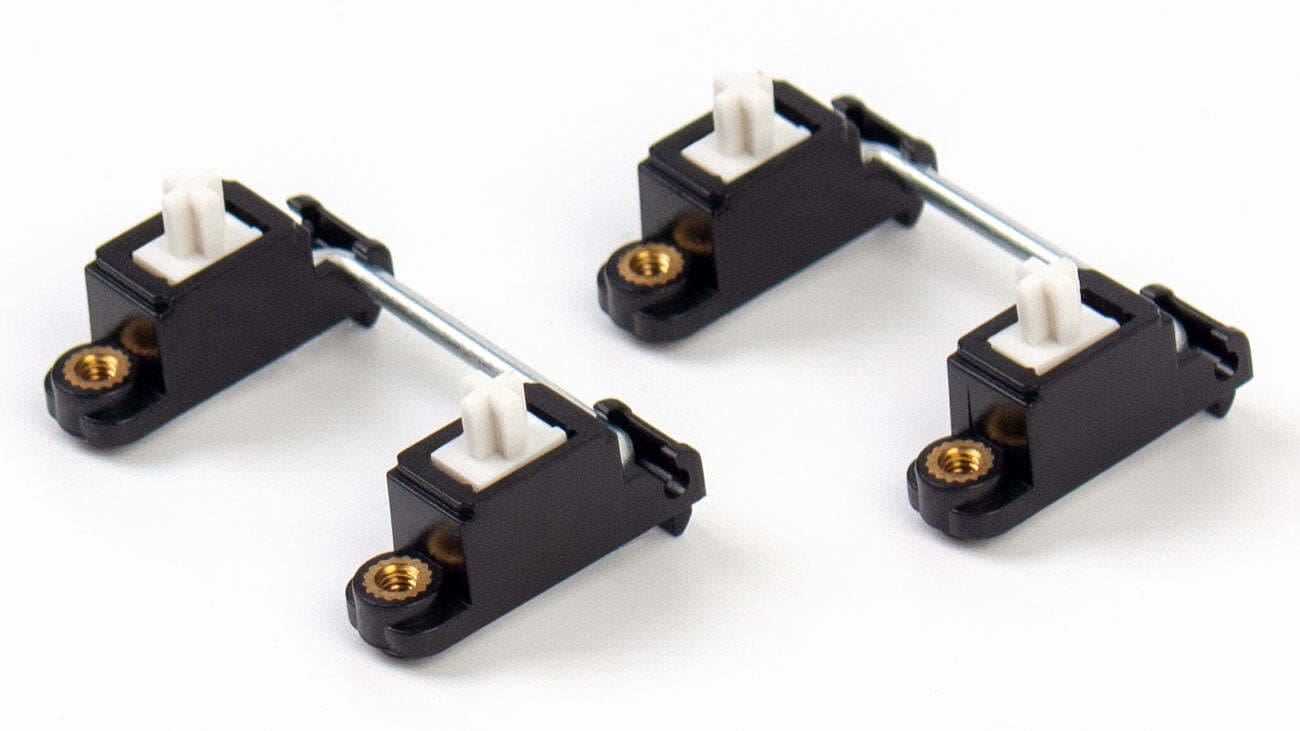 Pre-lubed Gateron G Pro Switch
The renowned Gateron G Pro switch comes with an optimized mold, more precise positioning, less wobbliness, and factory pre-lube will certainly improve your fingertip feel. A smooth travel experience is guaranteed with up to 50 million keystroke lifespan.

Typing sound test of the K8 Pro with Gateron G Pro switches and OSA profile double-shot PBT keycaps.
OSA Profile Double-shot PBT Keycaps
To further fine-tune your typing experience, the K8 Pro comes with our unique OSA profile (OEM profile with spherical-angle) and double-shot PBT keycaps that aim to provide a more comfortable fingertip feel with excellent oil resistance for long-term use on the timeless tenkeyless layout.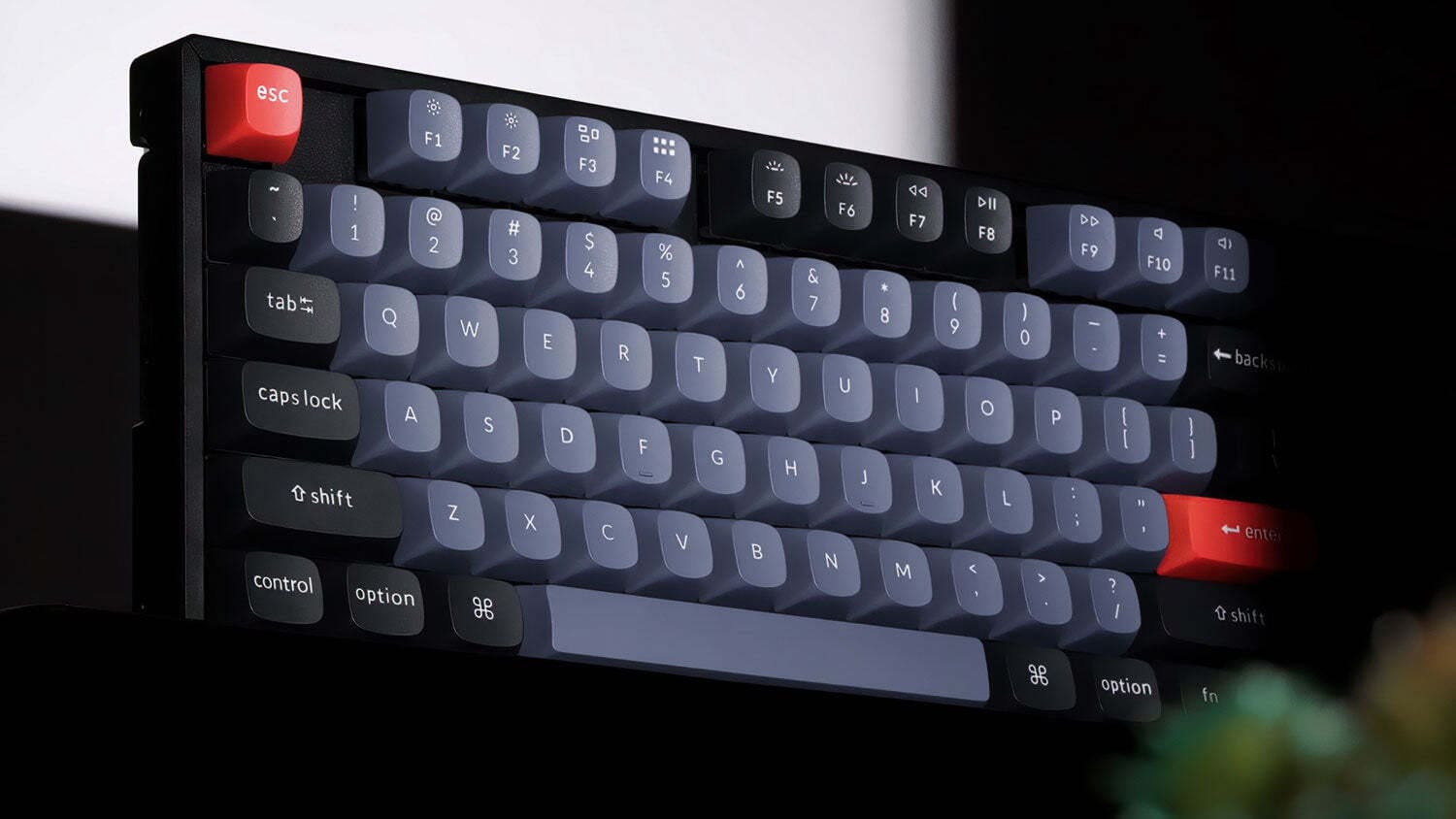 The south-facing RGB is designed to better illuminate the keyboard backlight from the typist's angle. The south-facing RGB is also free from interference when the user installs Cherry-profile alternative keycaps on their keyboard.

Comes with more than 13 types of RGB backlight settings as well as a static white backlight option. You can further fine-tune the RGB hue, saturation, brightness, effect speed with ease.
Three levels of adjustable typing angle (0º, 6º & 9º), an inclined bottom frame, and curved OSA-profile keycaps are all working together to provide long-lasting ergonomic support for your wrist.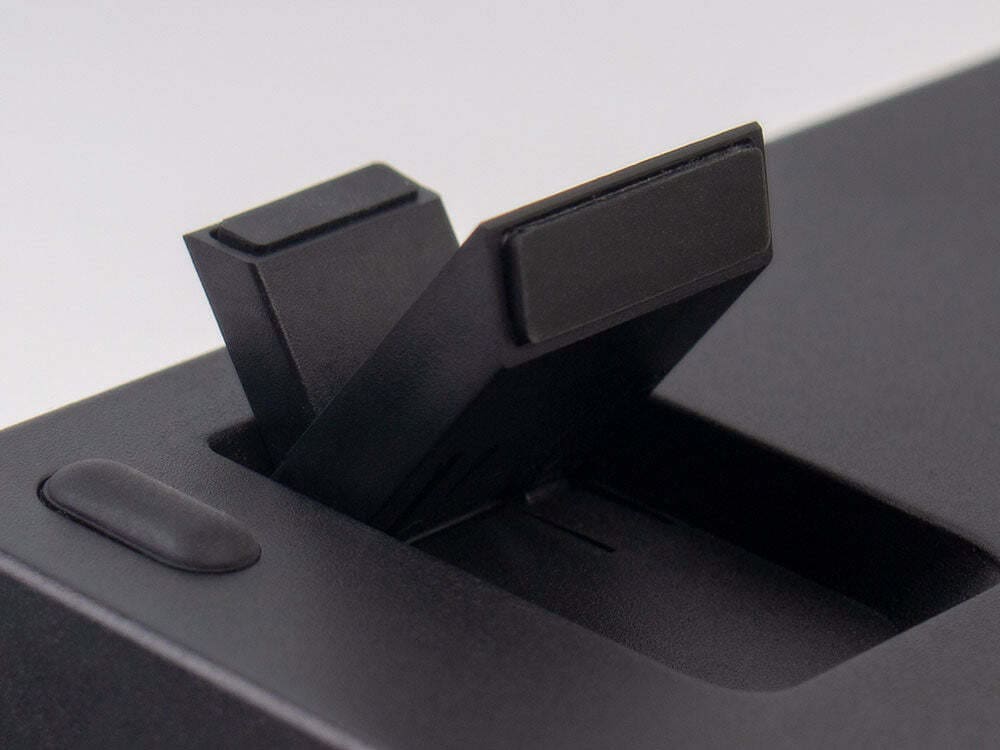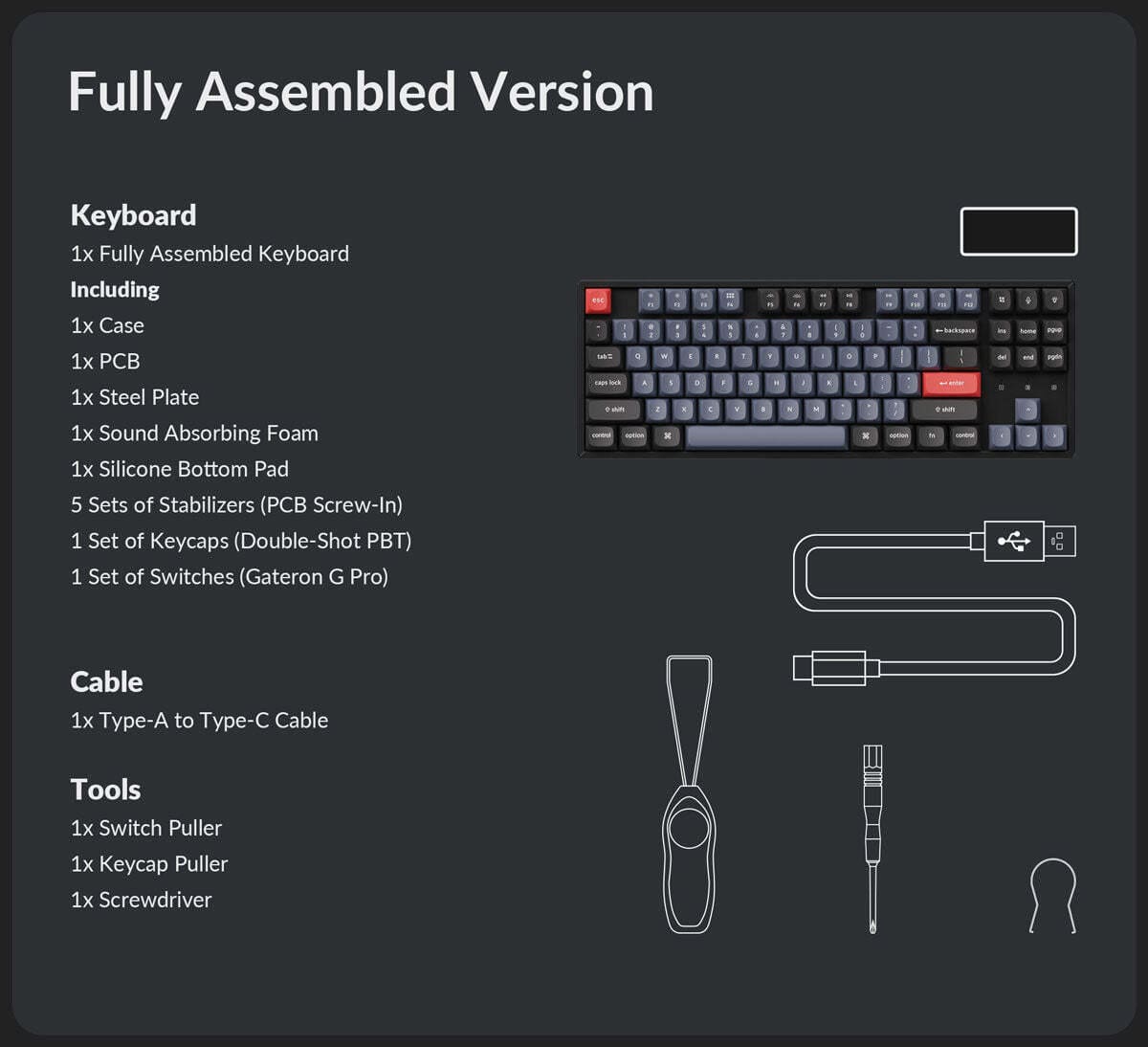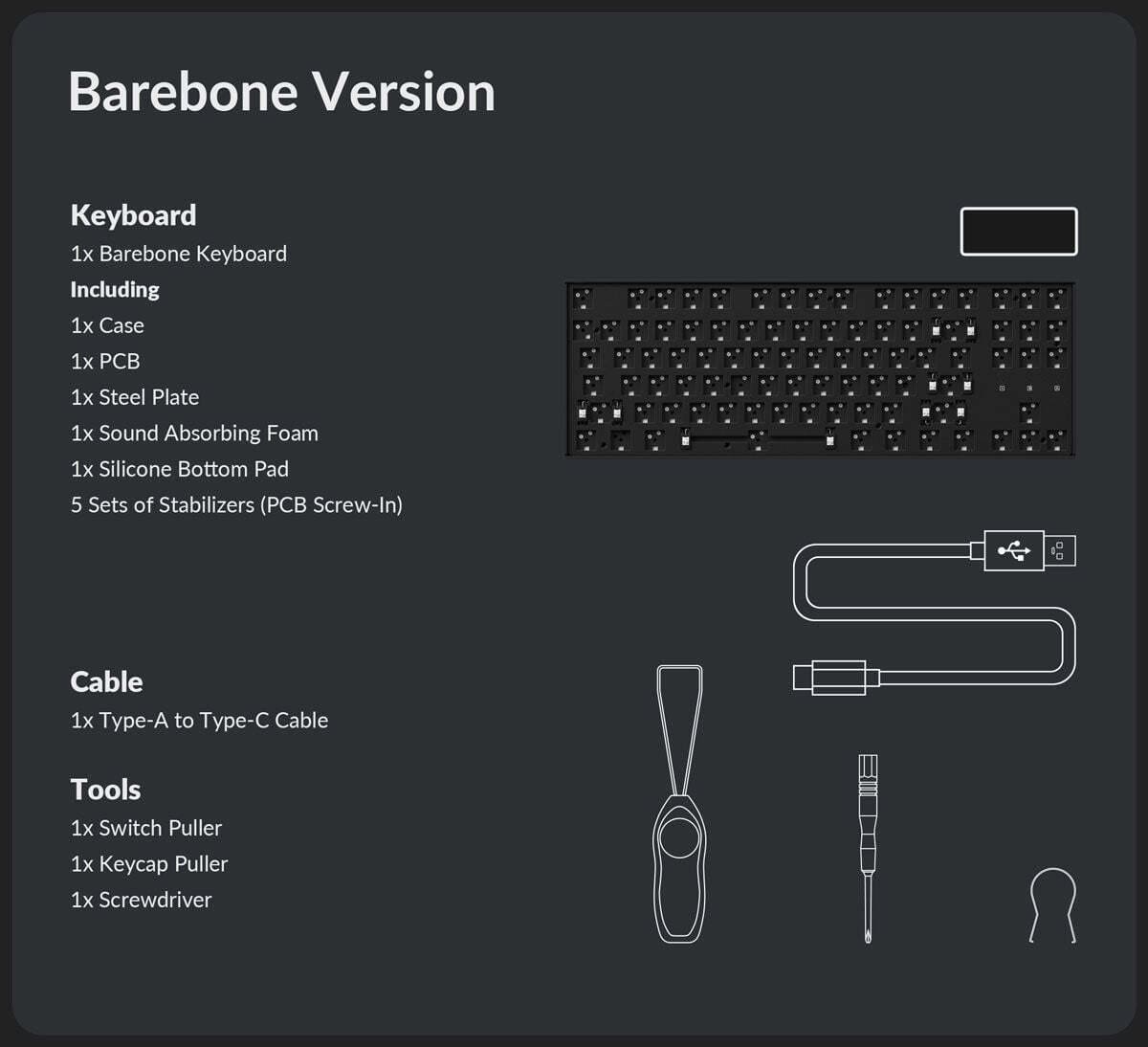 SPECIFICATION
Number of Keys: 87 (Tenkeyless)
Switches  (Not including Barebone Version): Gateron G Pro Mechanical
Switch Face: South-facing RGB
Stabilizers: PCB-mounted screw-in stabilizers
Number of Multimedia Keys: 12 
Frame Material: ABS / ABS+Aluminum frame
Keycap Material (Not including Barebone Version): Double-shot PBT
Keycap Profile: OSA (OEM profile with spherical-angle)
Layout: ANSI
Polling Rate (Wired Mode): 1000Hz
Polling Rate (Wireless Mode): 90Hz
N-Key Rollover (NKRO): Yes for both wireless and wired modes
CONNECTIVITY AND POWER
Backlit: 13 types of RGB backlight options plus endless possibilities
Battery: 4000 mAh Rechargeable li-polymer battery
BT Working Time (Backlit off): Up to 300 hours (Lab test result may vary by actual use)
BT Working Time (RGB): Up to 100 hours (Lowest brightness)
Connection: Bluetooth and Type-C cable
Bluetooth version: 5.1
Bluetooth Device Name: Keychron K8 Pro
Compatible System: macOS/Windows/Linux
PHYSICAL UNIT
Dimension (Plastic frame version): 355 x 123 mm (13.9 x 4.84 inches)
Weight: About 990 g / 2.2 lbs
Dimension (Aluminum frame version): 359 x 127 mm (14.1 x 5 inches)
Weight: 1146 g / 2.5 lbs
Height incl. keycap (front) 35 mm (1.37 inches)
Height incl. keycap (rear) 42 mm (1.65 inches)
Typing Angle: 0º, 6º and 9º
MCU: Ultra-low-power Arm Cortex-M4 32-bit STM32L432 (128KB Flash)
Operating Environment: -10 to 50℃
3 reviews for
Keychron K8 Pro QMK/VIA Wireless Mechanical Keyboard